MARSEN
Product
WATER INGRESS ALARM SYSTEM
WIA-3000
GENERAL INFORMATION
WATER INGRESS ALARM SYSTEM is designed to detect the presence of water in the cargo holds and dry space or void space.
This system is in accordance with SOLAS Reg. XII 12, IMO Res. MSC. 145(77) and IACS SCI 180. This sensor can also be used for detecting the water in LPG/LNG Carriers.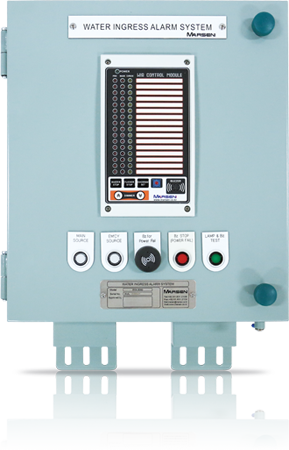 FEATURE & ADVANTAGE
Easy maintenance
No failure due to no mechanical unit
Possivle to control a number of signals
(max. 80 points)
High reliability, druability and simple structure
Passed EMI and EMC test
APPLICATION
All kind of bulkers
LPG, LNG Carrier / PCTC
OPERATION PRINCIPLE & SYSTEM COMPOSITION
WIA-3000 is composed of a main alarm panel, repeat alarm panel, barriers, external alarm unit and water level switches (electrode/ pressure/ float type) installed at the cargo hold or the location complied by the rules.
When the presence of water has reached the detecting point of level switch installed in the cargo holds or other space, the electric signals are transmitted to the main panel and main panel activates alarms and alarm signals to external unit.
TECHNICAL SPECIFICATION
SUBJECT
SENSOR TYPE
MATERIAL
MAIN POWER
PRESSURE
AMBIENT TEMP
IP GRADE
ACCURACY
EX PROOF
SIGNAL
COMMUNICATION
MEASURING POINT
VALUE
Electrode / Pressure / Float
Sensor : SUS304 / SUS316 Controller : SS400
110/220 VAC, 60 Hz / 24 VDC
Max. 5Kgf/㎡
Ambient temp. : -25°C ~ 70°C / Work temp. : -10°C ~ 60°C
IP 68
±5mm
Sensor : Ex ia IIC T6 / Barrier : Ex ia IIC T6
4~20mA Analog signal
RS485 (422)
MAX. 80point