MARSEN
Product
OIL DISCHARGE MONITORING SYSTEM
ODM-2000
GENERAL INFORMATION
OIL DISCHARGE MONITORING SYSTEM is a system to determine and monitor the ship's oily water discharge according to the rule of MARPOL 73/78 and MEPC. 108(49). IMO regulated the installation obligation of this oil discharge monitoring system to prevent the environment pollution worsen by ships.
In addition, this equipment has successfully passed the calibration tests for Bio-fuel blends as specified in MEPC 240(65).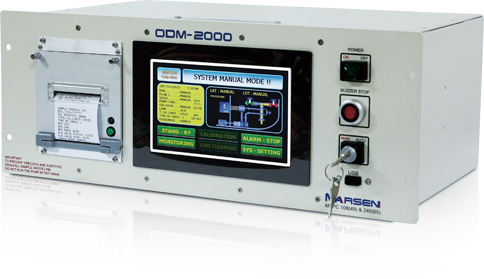 FEATURE & ADVANTAGE
Easy operation
Easy installation and maintenance
Unique self-cleaning function-manual cleaning is not necessary
Intrinsicallt safe type,
DP TRANSMITTER
Short response time (15SEC)
Insentitive to ship's
motion and vibration
Flowmeter working
by different pressure
HMI by touch screen LCD
Record - Paper printer or USB
APPLICATION
Oil tanker
Oil & chemical tanker
OPERATION PRINCIPLE & SYSTEM COMPOSITION
ODM-2000 is composed of a controller and an oil content meter, a hyd. package, a motor/pump and other fitting equipment.
The OCM monitors the oily water concentration flowed by the sampling pump & hyd. package and sends this information to the controller
Then the controller receiving the data from OCM and GPS determines oily water discharging by processing the data.
INPUT AND OUTPUT SIGNAL
SUBJECT
OIL CONTENT
DISCHARGE FLOWRATE
SHIP SPEED
GPS
DISCHARGE VALVE
VALVE POSITION
VALUE
0 to 1000ppm
Max. 1,225㎥/h
21knots max
SIGNAL
Current loop
4~20mA
Impulses or GPS
NMEA0183
Dry contact
Dry contact
TECHNICAL SPECIFICATION
SUBJECT
CONTROLLER AND OIL CONTENT METER POWER
MOTOR PUMP POWER
AMBIENT TEMPERATURE
HUMIDITY
VIBRATION
AIR SUPPLY
VALUE
220V-60Hz / 110V-50Hz
440V-60Hz / 380 V - 50Hz (3PHASE)
0~55°C
MAX 95% RH
2~13Hz Amplitude + 1mm
4~7bar, dry clean air