MARSEN
Product
MASS FLOWMETER
CMF-200
개요
Mass flow meter is a device that measures the mass of fluid traveling through a tube, in accor-dance with Coriolis Principle.
Coriolis Mass flowmeter can directly measure the fluid mass flow, and has great influence on the processing and measuring methods in the energy and chemical industries.
Compared with the traditional volume tric flow measurement.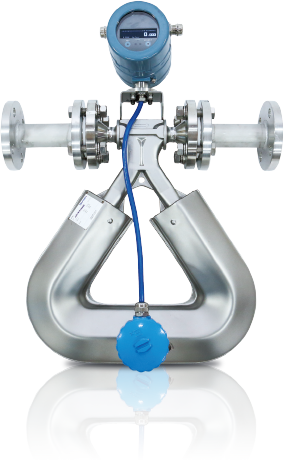 MASS FLOWMETER
CMF-200
INPUT
- Possible to measure the mass directly
- High accuracy and relibility
- Wide range of flowrate
- Can measure density, temperature
- Simple structure
기술 사양
SUBJECT
ACCURACY
AMBIENT TEMP
RELATIVE HUMIDITY
FLUID
FLUID TEMP
NOMINAL PRESS
SUPPLY VOLTAGE
OUTPUT
VALUE
Better than ±0.2% of Actual Flow (Range 1:10)
Part with LCD Display -30~+60°C
5%~95%, Non Condensed
Liquid / Gas
-200~+200°C
4Mpa // 25Mpa (High Pressure Model)
DC 24V, 5W
4~20mA, Pulse 0~10KHz, RS-485